Our Firm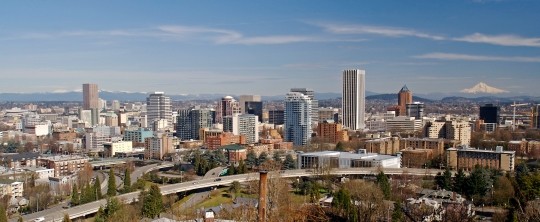 These days, most financial institutions are the product of multiple mergers and complex acquisitions. So it would not be unusual for one to assume that Umpqua Investments arose from the same wandering path. However, its history shows a decidedly different lineage. Umpqua Investments is a local company, built on hard work and honesty; delivering more to customers in the Umpqua way.
Umpqua Investments' heritage began more than eighty years ago, in what was then the small town of Portland, Oregon. The founders started out selling bonds that created the infrastructure of the Portland metropolitan area; an area that over 2.2 million people now call home.
From that foundation, Strand Atkinson Williams and York was born and evolved. It was the belief in a high code of ethics, fundamental financial principles and responsibility to clients' goals that created generations of trust, loyalty and results. Pivotal market moments have occurred throughout its long history: the crash of 1929, the depression, and the boom years. This company has witnessed them all - and developed strategies to adapt.
In 1999, Strand, Atkinson, Williams and York became part of Umpqua Holdings Corporation, and in 2009 it changed its name to Umpqua Investments.  Today, Umpqua Investments continues to exemplify the passion for innovation and commitment to client service that is synonymous with the Umpqua name.  The average industry tenure for current advisors is more than 20 years.  Their personal commitment to the community has resulted in countless hours of volunteer time, and finds them serving on more than 30 non-profit boards.
Much has changed in the modern financial marketplace since its inception, however, walking the halls of Umpqua Investment offices, talking to advisors and observing their actions, you would find ample evidence of the same local spirit and honest values upon which the business was founded eight decades ago.
What Does Umpqua Investments Have to Offer?
Umpqua Investments is based in Portland, Oregon with offices throughout the Umpqua Bank footprint. This means advisors can get to know clients on a personal basis. It means face-to-face meetings with a trusted partner rather than long-distance dialing to a call center three time zones away. It means relationships that span decades and generations, not just months or years. As a community based brokerage firm, Umpqua Investments' ambition is to deliver a local, client-focused experience that mirrors that of Umpqua Bank.
Umpqua Investments is an independent company; which is not bound to in-house products, families of funds or a single investment approach. This allows for creative, innovative, personalized plans for each client – a plan that addresses the client's specific needs and goals, without bias or limitations.
Umpqua Investments is a full service investment advisory firm with the tools and resources enjoyed by Wall Street counterparts. Their operating platform provides a competitive and comprehensive selection of products and services including:
Fixed Income:The Umpqua Investments bond trading desk is one of only a few local fixed income market-makers in Oregon.  Since opening their doors in 1928, the bond trading desk has been serving customers with direct access to the fixed income marketplace, making Umpqua Investments one of the oldest bond trading firms in the Northwest, as well as one of the most active.  The current trading specialist has more than 30-years of industry experience.  Umpqua Investments specializes in Oregon tax-free municipal bonds, but the bond desk also provides advisors and their clients with access to a vast number of offerings:  municipals, corporates, treasuries, government agencies and certificates of deposit (CDs).
Equities:Stocks (all exchanges and NASDAQ), over-the-counter stocks, options, and exchange traded funds (ETFs).  Umpqua Investments also offers online trading and online account access.
Separately Managed Accounts:Third party Registered Investments Advisory services, discretionary portfolio management, mutual funds and unit investment trusts (UITs).
Annuities / Insurance:Annuities (fixed and variable) and life insurance.
Planning:Retirement Planning, 401(k), IRA, SEP, financial planning, education savings planning (529s), estate planning and trust services.
Umpqua Investments aims to strategically and thoughtfully grow the company throughout the footprint (Oregon, Washington, California and Nevada) and to partner with their Bank colleagues to enhance the client experience.